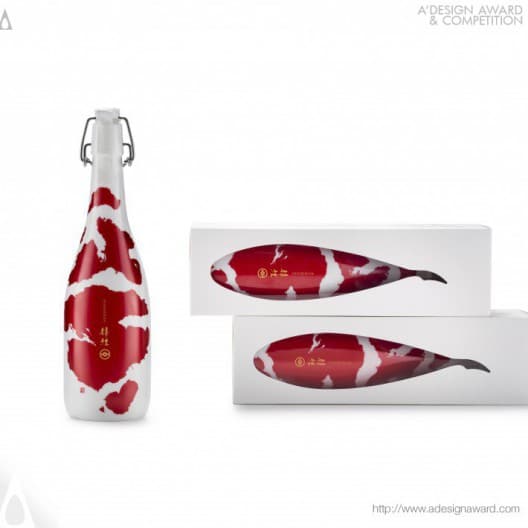 Lovely Package presents the winners of the 2016 A' Design Award & Competition. Each year creative agencies compete for honor, prestige and international recognition.
The A' Design Awards & Competition is a freestyle design competition open to both concept stage and realized works designed by professional and young designers, design companies and other businesses in the manufacturing industry worldwide. Submissions can be made to Furniture Design, Interiors, Electronic Devices, Architecture, Packaging, Graphic Design, Ready-Made, Jewelry Design, Interfaces, Web Sites, Transportation, Yacht Design and others.
Check out some of the packaging design winners below, and see all of the various category winners here.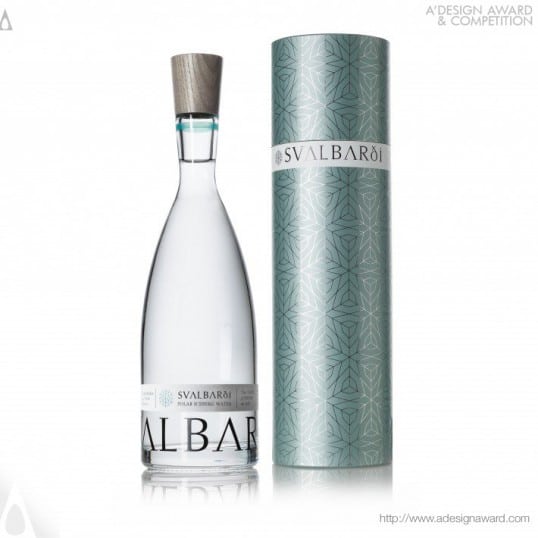 Svalbardi Polar iceberg water by Studio h
"We wanted to capture the mood and beautiful stillness of the polar landscape avoiding the use of clichéd images of icebergs and arctic scenes. The simple coloured neck band echoes the blue and green hues found in icebergs and the wooden cap was inspired by arctic driftwood. The ice crystal works alone as a motif and comes to life as a repeat pattern on the gift tube and all collateral. An ancient regional accent is used on the d in Svalbardi as another clue to its Nordic origins."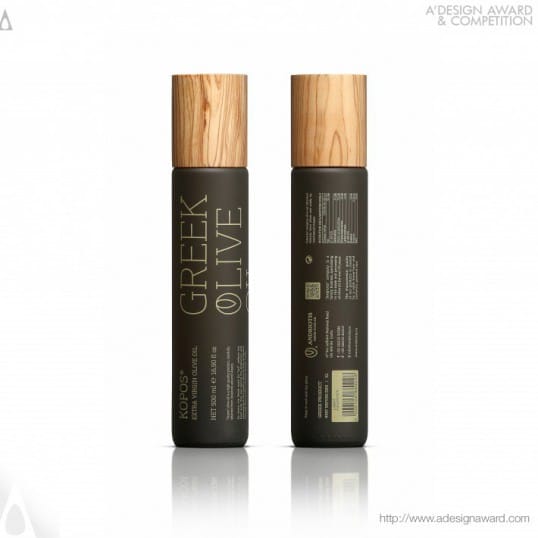 Kopos® | Limited Edition Extra Virgin Olive Oil by Chris Trivizas
"Kopos olive oil is a high quality product, carefully selected from locations around Greece. Its name, the Greek word for toil, reflects the hard work that lies behind the production and processing of this quality olive oil that we believe will add taste to your everyday dietary needs."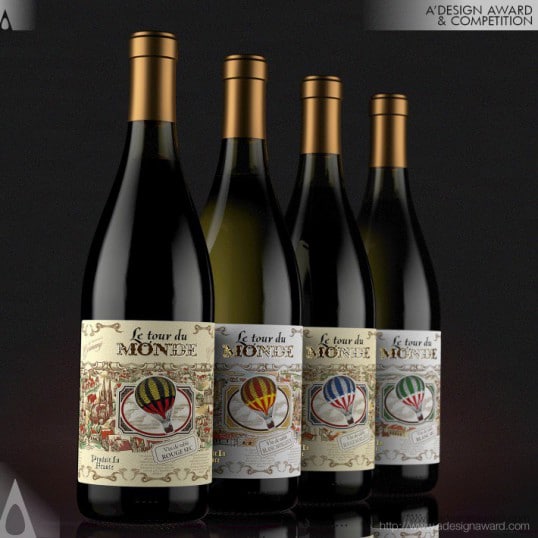 Le Tour De Monde Series of European wines by Valerii Sumilov
"The base for this concept is the air balloon travel plot from the popular adventure novel Around the world in 80 days (Le tour du monde en quatre-vingts jours) by French author Jules Verne. This novel inspired us to develop a so-called vintage design. The plot's main idea – landmarks from 4 different European countries – France, Germany, Spain and Italy."
Japanese sake "KOI" Japanese sake Bottle and Box by Aya Codama BULLET Inc.
"Our inspiration of this project is "Creating the impressive designed Sake that represents Japan", and we chose the Japanese most famous ornamental fish "Koi" as our motif. ("Koi fish" is often called as "Nishikigoi".) This Sake is manufactured by Imayotsukasa Sake Brewery Co. Ltd. located in Niigata prefecture where is known as Koi breeding from old time. "KOI" is ornamental carp that have beautiful colored markings on the spindle-shaped heroic body. They can be defined as inedible carp that have admirable figure, markings or colors. Also they are known as a "living jewel". In 1918, first "KOI" was born in Niigata Japan where the Imayotsukasa Sake Brewery has their brewery."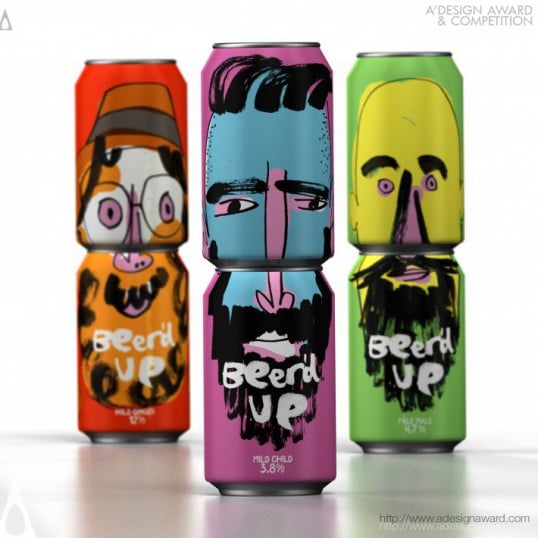 Beer'd Up Beer packaging by Springetts Brand Design Consultants
"The main can illustrations were created by Jon Burgerman, a New York based artist, instigating improvisation and play through drawing and his unique doodle art style. His work is lies between fine art, urban art and pop-culture, it uses humour to reference and question his contemporary environment. Jon's style created a fresh take on hipster culture and created a vibrant explosion of 'wearable can beards'."

Enjoy Sugar packaging by Springetts Brand Design Consultants
"The design concept of a spoon on a nose to capture the innocent joy of a trick we all remember from our childhood. It is a visual look that evokes a familiar, happy emotional response with potential consumers. The face drawn in sugar give the brand a popular appeal in keeping with it's 'for everyone' positioning and competitive price point. The naturalness and informality are reinforced by the sugar 'face' and being able to see the real product through the 'Enjoy' window."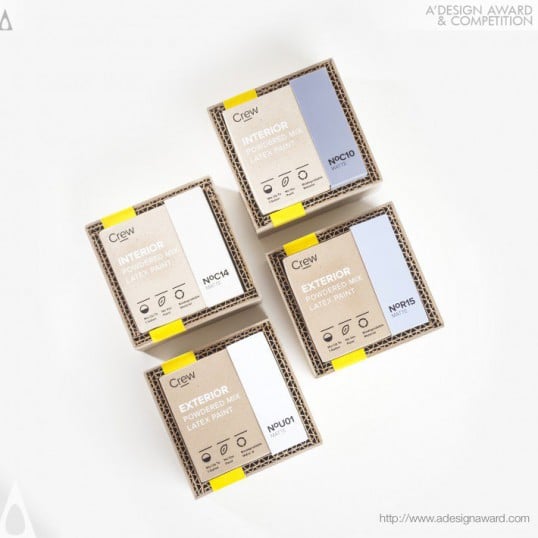 Crew Powder Mix Paint by Alireza Jajarmi
"House paint has never been a fashionable or a trendy market and that needs to be changed. The fact that the paint market is an unsaturated market for trendy and aesthetically pleasing products, made me want to create something new and different. Research is the crucial part. Knowing what consumers need and what they may be attracted to is what the designer has to be mindful of. The rest are the set boundaries that has to be followed in order to have a functional package."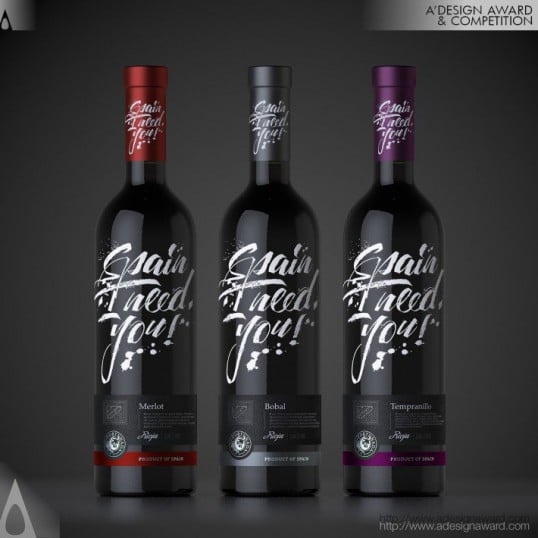 SPAIN I NEED YOU! Spanish wine series by Valerii Sumilov
"We've spent a lot of time thinking: which visual elements would reflect our idea precisely and become a new and somewhat unexpected view of Spanish wines. We wanted to get away from the standard set of symbols common to packing for these wines. And after many hours of intense brainstorming we've come to the simple solution: if you want to say something – just say it out loud."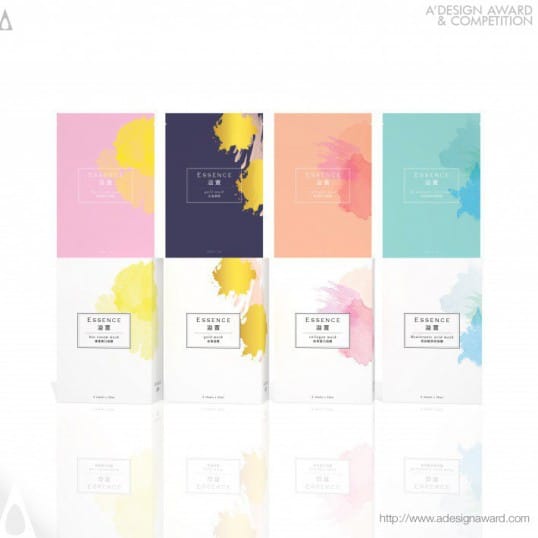 Essence Mask Packaging by Koren Chi Kei Sin
"The design is inspired from the transparency and fluidity of watercolour. Water is the main element to bring out the colours in watercolouring technique while for Essence Mask, the essence lies in keeping the keeping the skin hydrated and replenished. Each of the product aims to offer customers a health,radiant skin. The vivid colours of the mask design represents an everyday glamour after using the product. The use of pastel colours helps in giving the product a feminine, soft and attractive identity."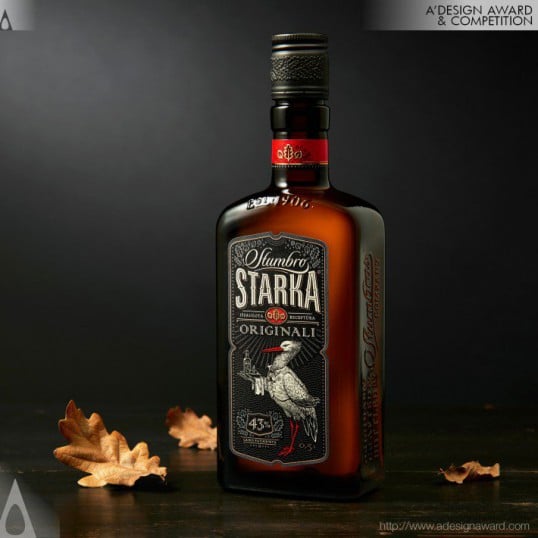 Stumbro Starka Bottle design and labels by Studija Creata
"They say that in the old days, Lithuanian men would make Starka on the birth of their first son. An aged vodka in honor of the stork's delivery. Strong and special. Triple distilled rye vodka, with the leaves of apples and pears. Apples for richness and pears for a long, full life. Buried in an oak barrel, it would wait patiently for the son's wedding day."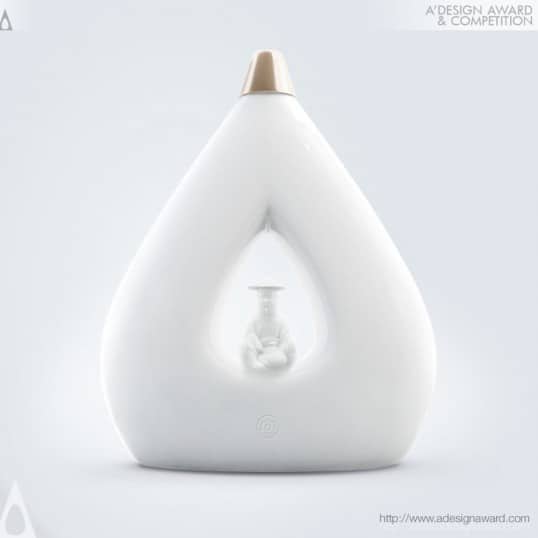 Tippler's Wine Package Design of White Spirit by Yong Huang
"The design inspiration is from the poetry "drinking" of the poet Tao Yuanming in China. "I built a hut beside a path, But hear no cart or horse, You ask how this can be? A distant mind is a far off place Picking mums by the eastern fence I lose myself in the southern hills. The mountain air, the sunset light, Birds flying home together. In this there is a truth To know, but not to say."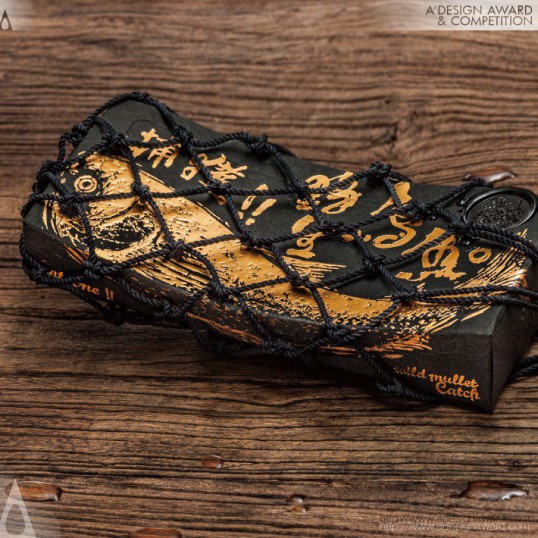 Got One!! Wild Mullet Catch Food Packaging by Ching Wei Liu
"We established a brand named "seafood monster" dedicated to seafood retail. The "Got One!! Wild Mullet Catch" is one of the products at seafood monster."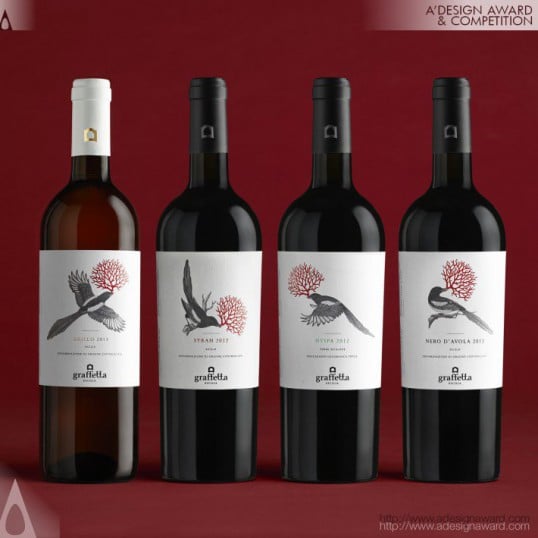 Graffetta Estate wines Logo, packaging identity by Giacomo Stefanelli
"In ancient times the Graffetta farmland, located in the splendid southernmost tip of Sicily, was a coral reef immersed in the best of the Mediterranean Sea. From this particular origin, imprinted in the DNA of the land, have been imagined the precious red coral, vibrant with life and sea, meet an inhabitant of the land and the wind, an inhabitant who by her very nature is able to recognise and love something of value: the magpie. A unique encounter, able to break through the barriers of time, have been imagined and then placed on paper to characterize the uniqueness of these wines."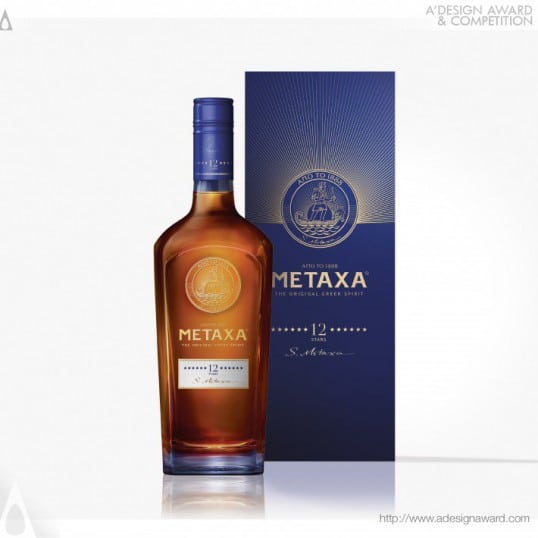 METAXA 12 Stars Packaging Design by de Brem Inès
"This new packaging has been created to convey 3 key messages: -Embody sensoriality by exclusively using materials that will convey the idea of sensoriality inherent to our concept. -Reinforce the feeling of premiumness by giving a distinct role to the Salamina Warrior and reinforce it as the emblem of the House and as a quality seal. -Enhance the Heritage of METAXA by integrating '1888' in the signature"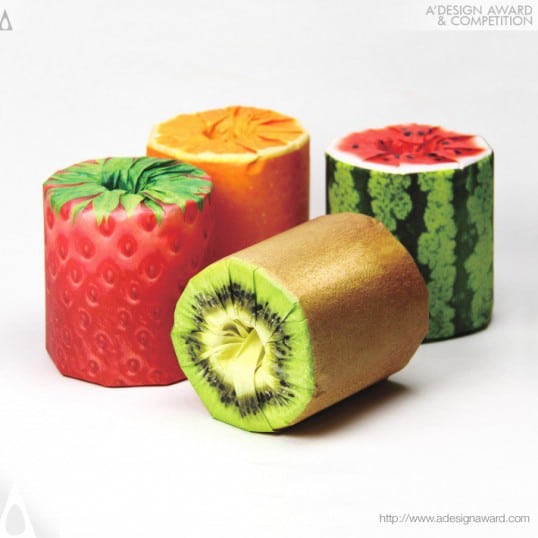 The Fruits Toilet Paper Packaging by Kazuaki Kawahara
"I attempted to design that brings a smile to the face of anyone who sees it right away. And I tried to beautifully design the toilet paper to be used as a gift. I think that did not do anyone ever."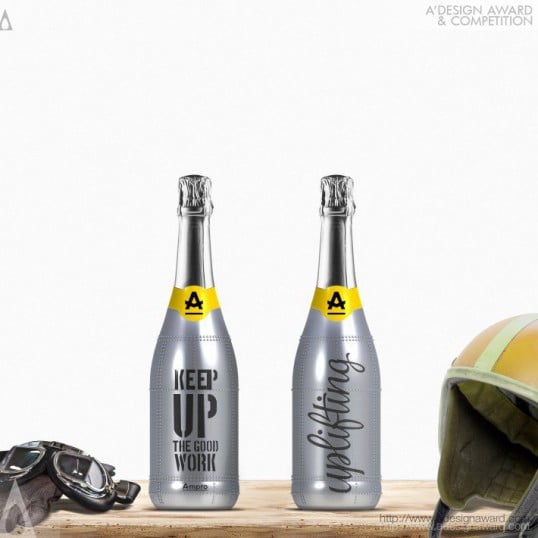 Champagne A bottle by Ampro Design
"Aviation, Strength, Impunity – these three concepts evolved and inspired us to create a celebration champagne bottle. The two messages displayed "Keep up the good work" and "uplifting"; represent dedicated control center and are aimed to provide conviction and good spirits."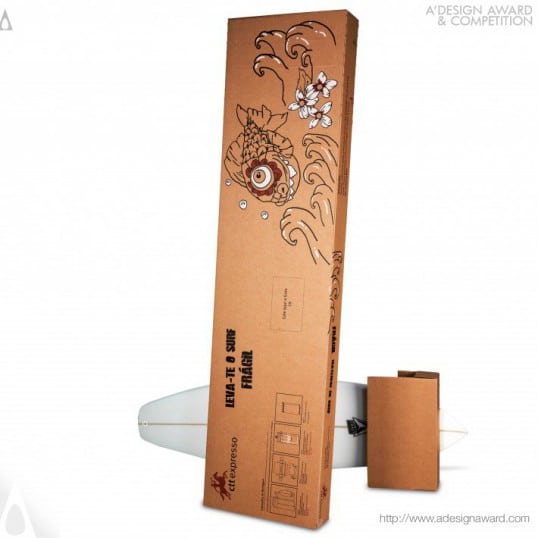 Surf express Surfboard box by Ana Lisa Luças – CAN DESIGN
"Inspiration came from surf painting, and for the difficulties I have on wrapping surfboards for sending."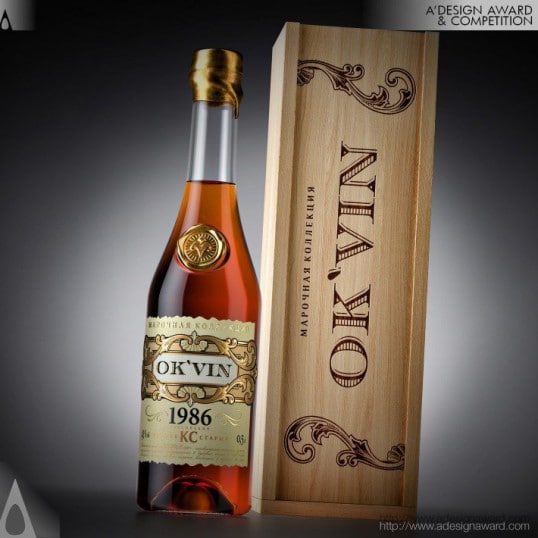 OK`VIN Limited vintage brandy by Valerii Sumilov
"This project's task was to create a complex design solution for a band of vintage brandy. The agency had to emphasize the product's unique character and the application of classic French production technologies. This aspect has become the main inspiration for the development of the solution, which was selected by the client as the most suitable for their needs."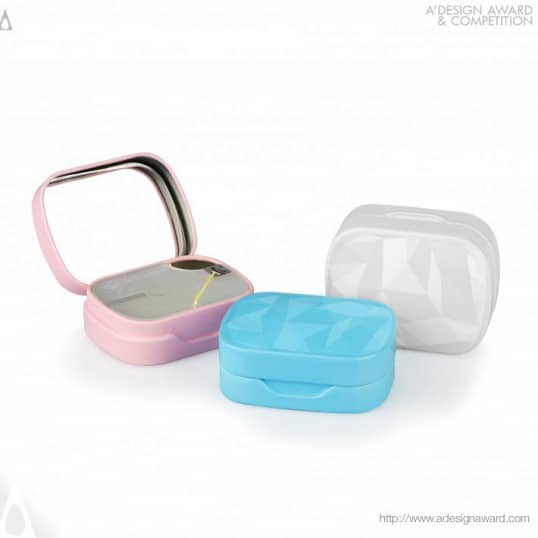 Twin Lotus Herbaliste Eco-friendly Pack Dental Floss Packaging by Prompong Hakk
"Originally we were designing a plastic packaging for our client's dental floss when we realized how much waste this segment created and started to rethink our approach. Our idea was to create a packaging that could be reused by refilling the filament. Yet, this only made sense if people were able and willing to keep this box for longer. So we looked at better materials and settled on tin plated steel, the century old choice for candy boxes, perfect for embossing and coloring."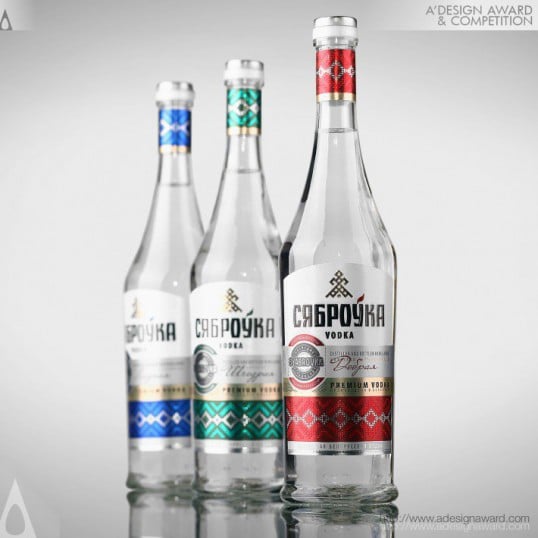 SYABROVKA Belarusian vodka by Valerii Sumilov
"The agency's forces were aimed at developing such a design for the Syabrowka brand that would meet all the rebranding requirements set by the client: keep the trademark continuity, make the brand more modern-looking, increase the product's status. The main inspiration was to create a contemporary and stylish design based on an already existing one while retaining the popular brand's recognizability."
While the 2016 Edition is over, entries to the 2017 competition is now open; interested designers, artists, architects and companies could register and submit their works at competition.adesignaward.com where further information regarding the design competition such as evaluation criteria, key dates, list of jury members, entry forms and presentation guidelines could be obtained.
– Sponsored post. Find out more about our sponsored posts.
Read more here:: A' Design Awards & Competition – Winners