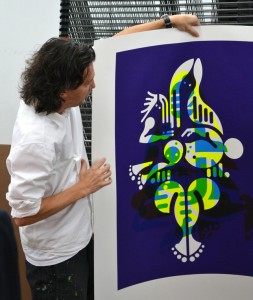 For artist Ryan McGinness, printmaking is not a new endeavor. Though he primarily paints, sculpts, and creates installations, he has worked with a several print studios over the years and is currently partnering with the Lower East Side Printshop for a Publishing Residency. Founded in the East Village in 1968 and moved to Midtown in 2005, the Lower East Side Printshop awards Publishing Residencies to contemporary artists so that they can work with a master printer to explore printmaking and create new work. MoMA's Junior Associates visited the Lower East Side Printshop last week to meet McGinness and artistic director/master printer Erik Hougen.
With Hougen's technical knowledge, McGinness has been using his residency to realize a new series of works called Mother and Child. Motivated by a theme deeply entrenched in the history of art, he began this body of work by using photographs of his wife and daughter. McGinness told us, "I'm interested in the push and pull between the figurative and the abstract." He did a number of sketches from the photographs to play with the readability of the original theme. In these drawings, toes became dots, hair turned into curves, and arms were transformed into bars. While McGinness still wanted the subject matter to be legible and evocative, he also hoped to imbue the prints with an ambiguity. So, he chose to make the final monoprints more complex than the original sketches by layering different versions of the "Mother and Child" on top of one another in the prints.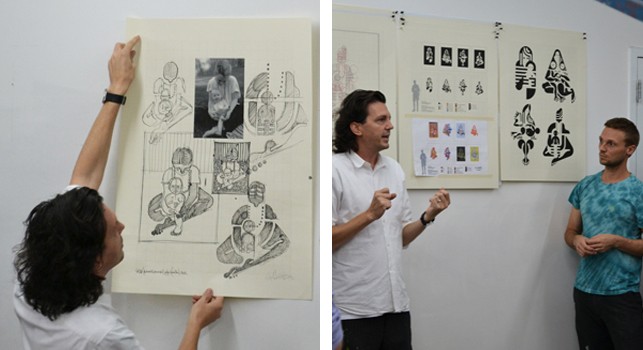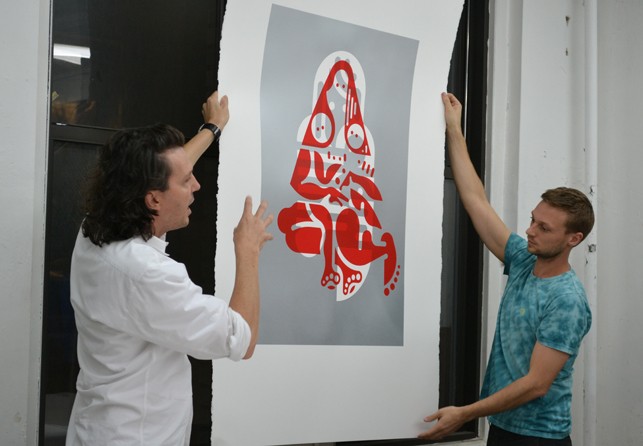 After selecting several designs to layer, McGinness said he made more technical drawings using Adobe Illustrator and formatted them for the correct size. While working digitally, he also selected ink colors—metallics and pearlescents—he thought most appropriate for the series. However, while those specific colors existed digitally, they were only approximations of the colors he would be able to actually use. So, before starting the printing process, McGinness worked with Hougen to select ink colors with the type of optical effects he wanted.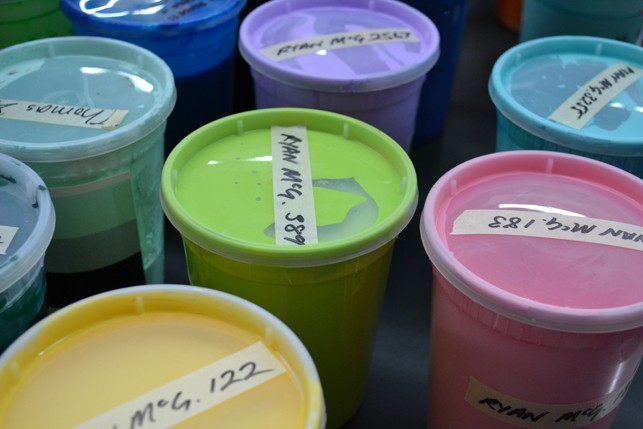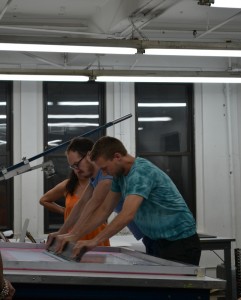 So we could get an understanding of the process from concept to completion, Hougen and printer Marco Lawrence actually made several prints in front of us. McGinness stood off to the side, overseeing the process, while answering questions from members of The Junior Associates. For McGinness, tactility and intuition play a big role in his artistic process, so he finds it difficult to just watch while the prints are being made. However, according to Hougen, McGinness's intuition makes the printmaking process smooth. McGinness selected designs and colors and how to layer them for the most compelling final product with ease.
As a versatile artist who works in a variety of media, McGinness told us that he figures out which medium is best suited to convey his ideas, then he acts. Intuition, and a longstanding love of graphic design, helps with this. "Everything starts with the content or the idea… I don't see all these different activities
[printmaking, sculpting, painting] as discrete and different from one another. It's all a continuum."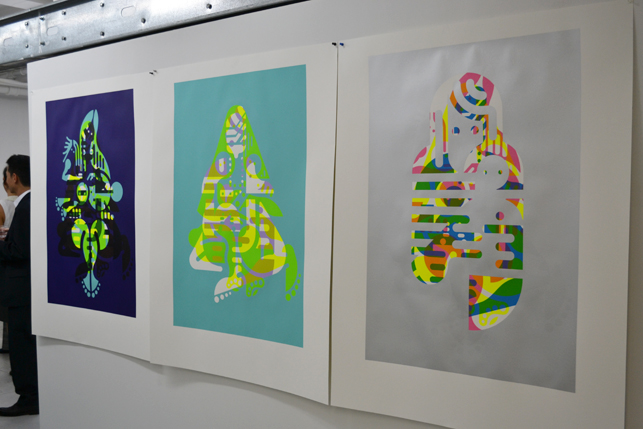 Read more here:: A Visit with Ryan McGinness at Lower East Side Printshop