By Anne Morra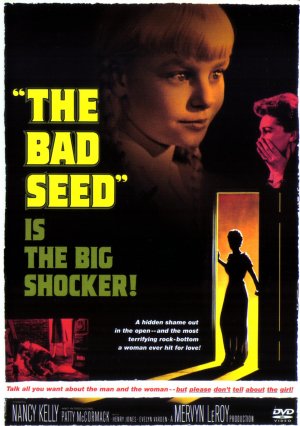 Since I usually write about films in the MoMA collection and, technically, The Bad Seed was a part of the collection until the depositor asked us to transfer it to another institution a few years back, I may be stretching my usual writing parameters. But I thoroughly want to write about The Bad Seed!
A confession: I had never seen this film until I was home sick with bronchitis last month. Turner Classic Movies, antibiotics, and a bottle of cough syrup with codeine were my best friends for a week. My sleep schedule was disrupted and I seemed to be up late and sleeping during the day. My evening wakefulness allowed me to catch a film I had somehow missed for years.
The Bad Seed, based on the 1954 novel by William March, which generated the play by Maxwell Anderson, was directed by Mervyn LeRoy—who also helmed Little Caesar (1931), I Am a Fugitive from a Chain Gang (1932), Little Women (1949), and Mister Roberts (1955). It's not really a horror film, but more of a suspenseful feature driven by the horrific actions of a seemingly cherubic eight-year-old girl named Rhoda Penmark (Patty McCormack). Rhoda has perfectly braided pigtails, crisp and clean gingham dresses, and dirt-free patent leather shoes. How does a little girl stay so clean? Her spotlessness and purity cannily contradict the truth of how morally muddied Rhoda really is.
Rhoda, apparently the only child living in a small apartment building, is fussed over by her doting mother, Christine, and the upstairs neighbor, Monica. Christine seems perpetually on edge, but just as fashionable and spotlessly groomed as her little girl. The Penmark household is not fully intact; dad, Col. Kenneth Penmark, is away on military duty, and her husband's absence unnerves Christine. It seems as if she is waiting for something awful to materialize and knows she will not be able to handle the consequences without Kenneth.
Having just lost a coveted penmanship award to her classmate Arthur Daigle, Rhoda seems nonplussed and joins the other children for a field trip to the lake. Christine is entertaining some neighbor ladies when on the radio they hear the news of a child having drowned. Immediately Christine is alarmed but when Rhoda returns home that afternoon unscathed and asking for a snack, she is relieved. Oddly, Rhoda is not disturbed in the least by the death of her classmate, and Rhoda's teacher, shell-shocked by Arthur's drowning, arrives to tell Christine that the girl was the last person seen with the boy. Later that night, when Christine is putting Rhoda to bed, she discovers the penmanship award that was given to Arthur. How did the medal come to be in Rhoda's possession? Christine has a very bad feeling.
The Bad Seed progresses with much handwringing, parental denial, and a wild visit by an intoxicated and grieving Mrs. Daigle, played with abandon by Eileen Heckart. We soon begin to suspect Rhoda as the callous killer. After all, poor Arthur is pulled from the lake with bruises on his forehead and hands matching the metal taps on Rhoda's dancing shoes! Then the handyman who catches her trying to destroy the shoes meets an unpleasant end himself. Before long, Christine has put the tricky puzzle together and places Rhoda at the center of each tragedy.
But there's more: perhaps it is Christine who is ultimately responsible for the evil Rhoda has wrought. For years Christine has suspected that her own biological mother was a serial killer, in spite of the normal upbringing she was given by a foster family. Once Christine decides that Rhoda's sociopathic actions are the product of bad genes, she heads to the lake and drops the medal into the murky waters, then returns home to gives the child a lethal handful of "vitamins" and put a gun to her own head. But more bad luck—and quick-thinking neighbors—saves them both.
It is clear by the end of The Bad Seed that Rhoda has at least three murders under her belt. Still perky, tidy, and unrepentant, on a stormy night Rhoda heads back to the lake to fish Arthur's medal out of the water. She tries and tries to snag the item, until a massive bolt of lightning hits her and destroys the dock! Wow. An unexpected end to the terror that is Rhoda, but how can you do that to a kid? In another interesting twist, the Motion Picture Production Code, which remained in place through the 1960s, did not approve of crime going unpunished in movies—even, in this case, crimes committed by a child. To add to this disturbing and unsettling ending, the producers tacked on a theatrical curtain call, with each actor coming out and taking a bow. The last scene in the film is actress Nancy Kelly as Christine spanking Patty McCormack as Rhoda, just a good-natured way to reassure the audience that no children were harmed in the making of this film.
The film (which, by the way, last screened at MoMA in 1974), was quite a hit in its day. Nancy Kelly was nominated for an Academy Award in the best actress category, and both Eileen Heckart and Patty McCormack were nominated for best supporting actress.
Needless to say, when The Bad Seed ended in the wee hours, I was wide awake and absolutely creeped out.
Read more here:: Better Late than Never: The Bad Seed