By Nick Mediati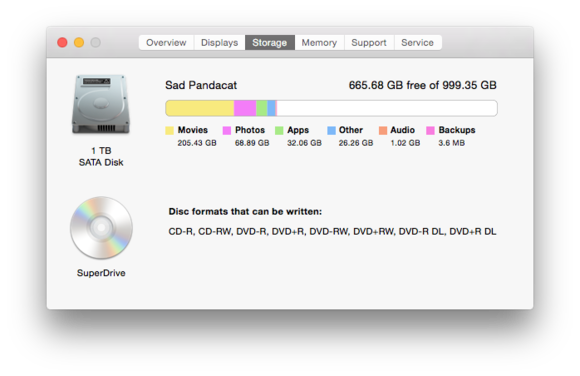 In today's era of multi-terabyte hard drives, many of us don't keep as close an eye on our disk usage as we used to. Still, even the largest drives fill up eventually. If you don't know how to check your disk space use on OS X, here's where to look.
Option 1: From the About box
OS X's About box is the easiest way to see your hard drive's free space.
In recent versions of OS X, you can easily check your disk usage from the About box. Pop open the Apple menu, then select About This Mac. On OS X Yosemite or newer, click the Storage tab in the toolbar to see how much disk space you have available. (On OS X Mountain Lion or Mavericks, click the More info… button, then click Storage.) You'll also get a simplified overview of what sort of files are eating up your storage space.
To read this article in full or to leave a comment, please click here
Read more here:: How to check your Mac's free hard drive space