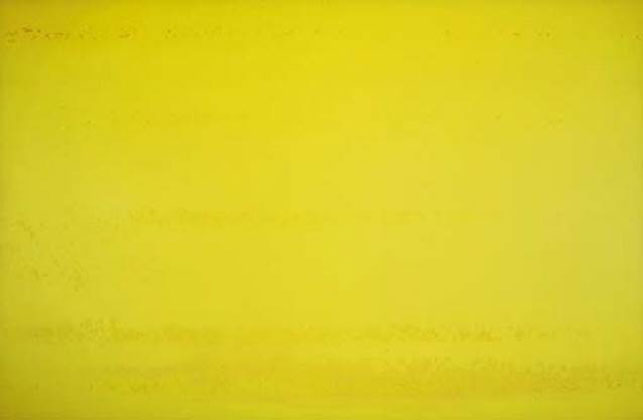 For a number of years MoMA's Department of Photography has sought to collect works by the American photographer Andres Serrano (b. 1950), and an exciting acquisition finally came to fruition through the generosity of Stephen and Sandra Abramson, who gifted to the Museum two Serrano works, Piss (1987) and Blood (1987). Over the past 20 years, the Abramsons have meticulously built a rich collection of photographs from the 1960s to today, and the Serrano works are part of a larger gift by the Abramsons of 32 works by 19 artists, including Matthew Barney, Robert Mapplethorpe, Laurie Simmons, and Cindy Sherman. This significant gift has allowed the Department of Photography to fill art-historical gaps in such areas as Conceptual and post-Conceptual art, art engaging with gender issues, and the gay art community's confrontation of AIDS-related issues.
Born in New York to a Honduran father and a mother of Afro-Cuban origin, Andres Serrano spent most of his childhood in Williamsburg, Brooklyn, in a devoutly Catholic environment. Religion played a formative role in his upbringing, which would later become evident in his art. At the age of 15, Serrano dropped out of high school with the aspiration of becoming an artist. Between 1967 and 1969 he attended the Brooklyn Museum of Art School, where he studied painting; he is self-taught in photography. It wasn't until the early 1980s that Serrano would catapult to international recognition.
Influenced by Surrealism and Dada, but also the religious imagery of Renaissance art, Serrano's works from the 1980s incorporate religious iconography, dead animals, and human flesh, among other elements. Using blood—a symbol of both violence and passion—urine, breast milk, and semen as raw materials, he produced two bodies of work: Immersions (1985–90) and Bodily Fluids (1986–90), of which Piss and Blood are a part.
During the so-called "culture wars" at the end of the 1980s, Serrano found himself at the epicenter of intense controversy for producing what conservatives perceived as "obscene" art. His now infamous work Piss Christ (1987)—a photograph of a crucifix submerged in a glass of the artist's urine—notoriously sparked public debate over the National Endowment for the Arts. Most memorably, U.S. senators Jesse Helms and Alfonse D'Amato crusaded against Serrano, bringing to the surface long-existing disputes about censorship, government funding of the arts, blasphemy, and artistic freedom.
Piss and Blood investigate the relationship between beautiful imagery and vulgar materials. Serrano uses urine and blood in the manner that a painter might use paint, resulting in luminous monochromes. He goes against the norms of photography by flattening the surface and eliminating the background, subject, and perspective. Created the same year as Piss Christ, these works took on a politicized element because of the AIDS crisis of the 1980s and the possibility of infection through bodily fluids. However, Serrano's works are not meant to arouse fear; Piss and Blood are highly seductive, purely abstract images.
Piss and Blood are two of more than 150 works added to MoMA's collection by the Department of Photography last week. Over the coming weeks, we'll be spotlighting more of these exciting new additions. Get updates and behind-the-scenes insights about new acquisitions here and on Instagram, YouTube, Facebook, and Twitter using #MoMAcollects.
Read more here:: MoMA Collects: Andres Serrano's Piss and Blood