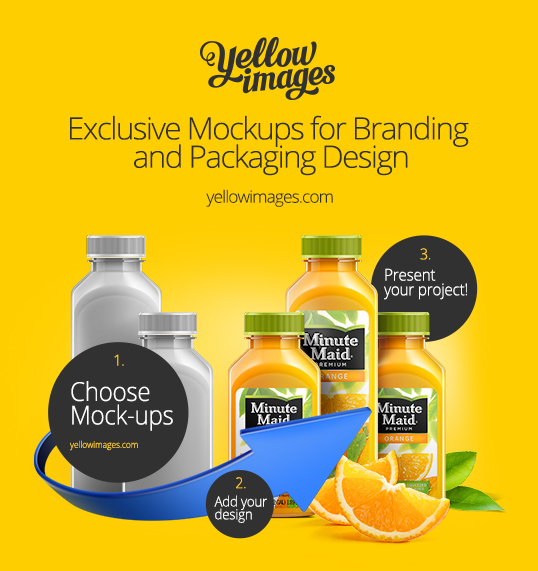 Yellow Images — Exclusive Mockups for Branding and Packaging Design
Mockups are a giant step forward in the field of packaging and branding design. With mockups the working process of each designer is getting easier, faster and more efficient. A new startup has been launched with the aim to help branding and packaging designers as well as students, packaging manufacturers and other creative specialists.
At the beginning of this year, a team of young and talented designers launched a project called Yellow Images. What is it all about?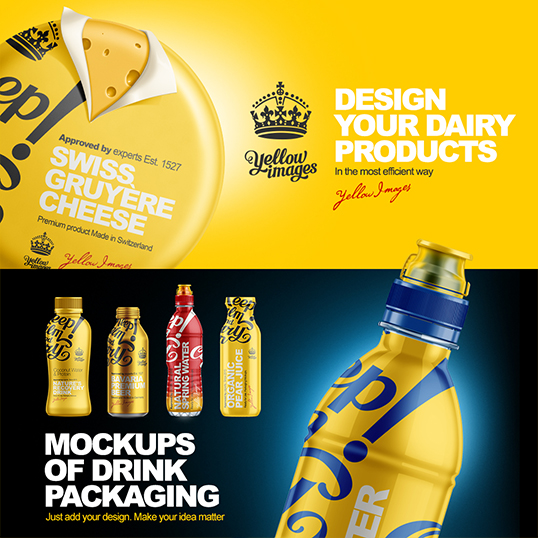 In his day to day work, every packaging designer is faced with an irritating necessity: he (or she) doesn't only create the packaging design, but also has to demonstrate to a client how his design will look on a finished product.
So a designer has to waste time drawing a photorealistic image of the packaging form itself (jar, tube, pouch, aluminum can, etc) with all the appropriate shadows, highlights, reflections, etc. This often demands a lot of time and effort, but high-quality visualization is crucial for the success of a design project as it's an important aspect for a customer.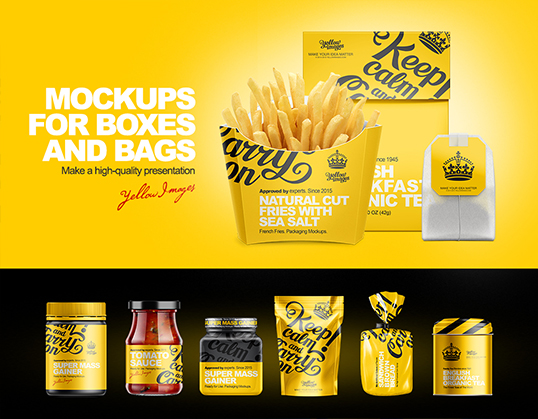 The perfect solution to this issue is the use of mockups. What does a mockup (or a template) mean? It is a PSD file with an image of the required packaging which contains the appropriate highlights, shadows, masks, etc. and includes a special layer for the design.
All you need is to display your design on the mockup and you'll see how your design looks on a finished product. So designers get the opportunity to present their design projects at the highest level with the maximum benefit for them.
Such a mockup can consist of several files where the packaging is viewed from various angles (front, back, side, top view, etc). Individual elements of the packaging are placed on different layers so it's easy to recolor their parts separately.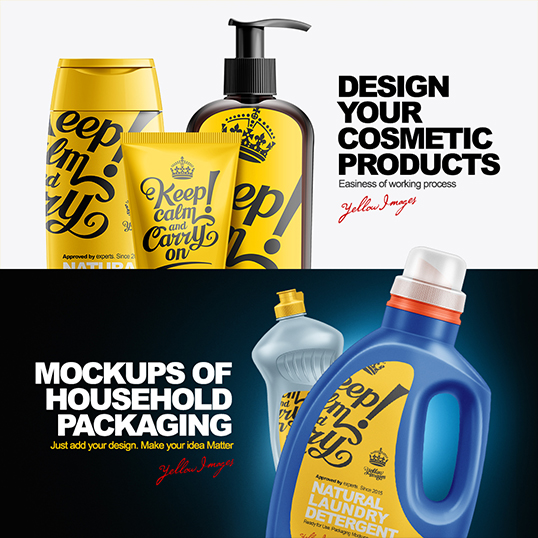 The project Yellow Images has aimed to set up the base of mockups for various types of packaging. The team has created an online marketplace of unique mockups and templates for various design projects, presentations and other creative solutions (you can view them at yellowimages.com).
Mockups can be very useful for designers who have to create designs for production lines. For instance, a customer might be preparing to produce a series of dairy products (e.g. yoghourt, milk, cream, etc), all made in the same style. In this case the designer can concentrate all his or her efforts on drawing the design itself. Then he or she just places this design on the mockups of the required types of packaging, and the customer gets his complete presentation with the finished line of products.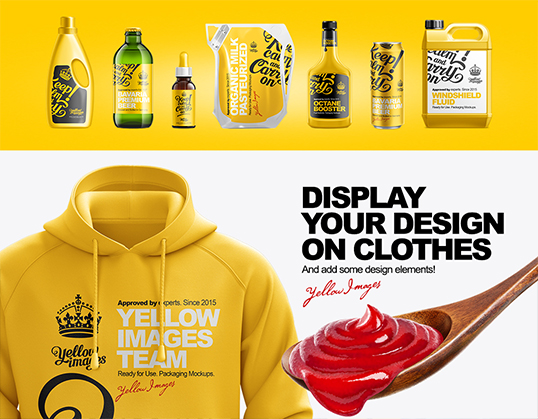 For the fast solving of such tasks there obviously must be a base of mockups for all types of packaging around the world. This is the aim of the team at Yellow Images. Now their project is in the early stage of their development, and there are mockups of drink, food, cosmetics, household, medical, clothes, media and some other types of packaging in their stock. But the content of the site is updating weekly with new mockups for the needs of designers and other creative specialists. Moreover, Yellow Images team offers to create a new mockup for free if a client can't find required one in the stock.
As mentioned above, now the Yellow Images project is in the early stage of their development and need some support. But it has a great potential to break through and create the primary base of packaging mockups.
– Sponsored Article. Find out more about our sponsored articles.
Read more here:: Yellow Images — Exclusive Mockups for Branding and Packaging Design